WELCOME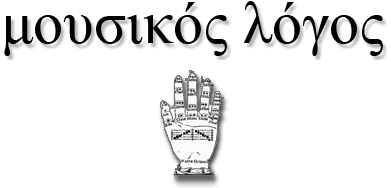 Welcome to the website of Mousikos Logos
Call for Contributions to Mousikos Logos
As Mousikos Logos celebrates its fifteenth year as one of Greece's premier musicological journals, the editors are pleased to issue this call for contributions and to announce the journal's new direction.
As in previous years, Mousikos Logos will continue Greece's only English-language, peer-reviewed open-access electronic journal. Beginning with 2018 issue, the journal is now served by a four-member editorial board with the assistance of an international advisory committee.
Going forward, the journal particularly seeks to include articles that explore the connections between Greek Studies and Musicology – both broadly understood – thus investigating intersections with literature, history, art, politics, economy, and society.
Mousikos Logos is published annually by the Greek Music Laboratory of the Department of Music Studies at Ionian Universoty.Mousikos Logos is indexed in RILM.
See also: Submissions | Current Issue